ACTIVITIES PROGRAM
YOUR ENGLISH CAMP IN CIUDAD REAL
Our activities are based on years of experience, we have seen what motivates children and using traditional methods of learning and fun games and adapted them to today's society.
Programs full of enthusiasm, new experiences and great fun for the campers, incorporating a wide range of artistic, sporting, recreational activities … and always in English 24 hours a day , with both the English language and your child being the star of every camp.

Example of a typical days activity program
08:45 – Good Morning
8:45 to 9:00 pm Morning warm up with music and gymnastics
9:00 to 9:45 pm Breakfast
10:00 to 13:00 pm Activities / classes
13:00 -14: 00 pm Pool
2 p.m. to 15:00 pm Lunch
15:00 to 16:30 pm Free time / workshops
16:30 to 17:30 pm Activities / classes
17:30 to 18:30 pm Snack / pool
18:30 to 19:30 pm Activities / classes
19:30 to 20:30 pm Shower
20:30 to 21:30 pm Dinner
21:30 to 22:30 pm Games
23:00 – Goodnight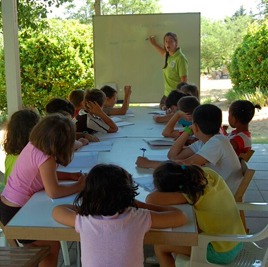 Fun English lessons
The classes are aimed at working the four basic language skills: speaking, listening, reading and writing, based on the methodology of Cambridge, for which we learn the vocabulary and expressions that are then practiced throughout the camp, during activities.
With a methodology that incorporates games, pictures and small competitions, in order to maintain among the students a high level of motivation to learn the contents.
Students learn dialogues,songs and stories in the English language and prepare to perform for the whole camp with the help of monitors. The benefits of Croclands unique methods engage and motivate learners of all levels, improves comprehension and memory of English. Builds confidence in expression and pronunciation, raises awareness of communication skills, and overall at the same time a fun experience for all students.
Sports and Games
It consists of many physical activities such as football, baseball, athletic events, handball, rugby tape, racket games, kickball, trekking, hockey, water games and many more sports.
Croclands famously fun gymkhanas, with group competitions, in which test the speed, mental dexterity, imagination and teamwork.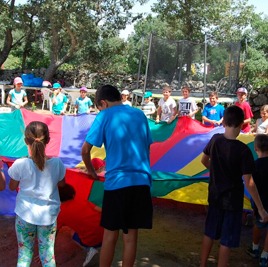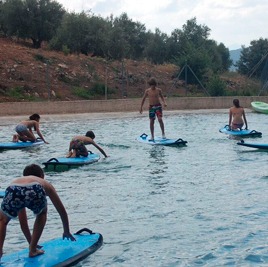 Water sports
With a lake within the facility, everyday we will have fun and practice water sports. Canoeing, kayaking, paddel surf (SUP), and team games and challenges.
The rest of the time we do other beach games like volleyball and team building challenges. There is a lifeguard, life jackets are provided and all safety measures are in place. The monitors participate with the campers, ensuring their safety and the campers are speaking English.
Performing Arts
"Lights, Camera, Action !!" All our young campers take the artist within them. For students to gain confidence with the language and start trying to talk, it is important that they become the protagonists of different activities related to the performing arts.
They make short films, record music videos. They dance, sing and fun English language music will be present throughout the camp, culminating with the organization of a "Talent Show", where each one will be surprised individually or in groups at their talent, showing what they do best and what they have been tested for several sessions. They are part of these fun activities and this motivates them.
Crocland brings out the confidence in students and our Creative workshops include entertaining shows from singing to dancing and acting. Crocland provides the tools, encouragement, costumes and music. One unique workshop Crocland provides is a video production day , where students have the opportunity to act in their own mini film that is uploaded to the Crocland blog for parents to see.
Crocland encourages and celebrates our students use of the English language through performance, using drama, music , dance and performance to increase their confidence, motivate them, and improve their memory of the words they are learning. Drama and Entertainment is one of the best tools to teach a foreign language as there is no fear of making mistakes and students are deeply involved in the situations given.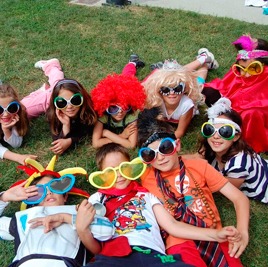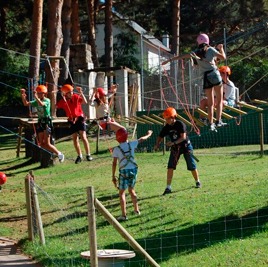 Multi-adventure (Adventure)
The facility has an onsite adventure park, with a zipline and a climbing wall, with all the security and safety measures. They will have a great time. These activities give great challenges for students, along with adrenaline they gain confidence in themselves for their achievements.
It is another activity that is one of the most popular at the camp, and the children definitely want to keep repeating the experience year after year. As with all the activities the campers are closely monitored by our staff in English.

Excursions
The program includes a cultural excursion to Las Lagunas de Ruidera by coach, and various excursions to nearby places with a special appeal. Giving the students a flavour of local culture in a natural environment combined with contact with local people. The excursions also include gymkanas and quizzes to learn more about the local environment.
This day is a great day for the children to buy family and friends souvenirs and presents, eat ice cream , buy sweets and window shop like adults.
Yet another day where the children have nothing but fun and are 100% safe with their monitors and another day of English speaking whilst shopping and sightseeing.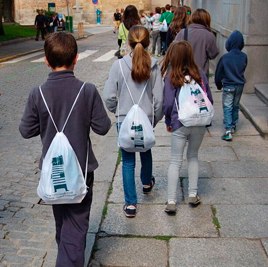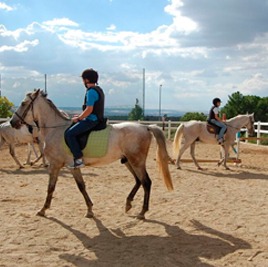 Horse riding
(Depending Facility)
Camps for 14 days, the campers will have a horse ride where they will learn basic steps to become a great rider and have a ride through great nature where they can see the environment from another perspective.
They are very tame horses used to be ridden by children and young people, they are supervised at all times by experienced experts. Children are placed in groups depending their level and experience of horse riding.

Workshops
We have the most exciting, fun, original workshops bringing out the Artisan side of every child. We have too many great creative workshops to list. They are unique and constantly original, please see our photo galleries of previous camps for an idea of the workshops we will be doing in 2017.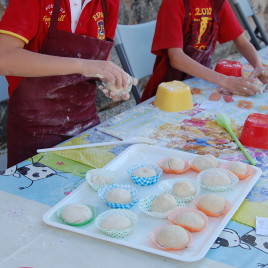 REGISTER TODAY!
To register for summer camp 2017 in Ciudad Real, you must complete an application for each student and send it directly online or scanned print and mail or deliver it to info@crocland.com or by hand. Location: Office in Boadilla del Monte, Street Salvador Dali, 12, by appointment only.
For any enquiries please contact us by phone 630 011 288 .Also, our team will kindly help you to complete the registration.
If you prefer to register in person, you can download here

download-enrollment registration form.